Obituary for Diana Marie De Meyer
Diana M. De Meyer, 73, of rural Victor, Iowa, died on June 6, 2018, at University of Iowa Hospitals & Clinics in Iowa City.

A memorial service has been scheduled for 10:30 a.m. Saturday, July 14th, at St. Bridget Catholic Church in Victor. A celebration of life reception will immediately follow at the Victor Legion Hall.

Diana was born on January 20, 1945 in Victor, the daughter of Donatus "Don" Raymond and Sarah Lucille Benesh Michalek. She was raised in Victor and attended St. John's Catholic school until it closed at the end of her junior year and was a 1963 graduate of HLV High School. She later received a BA degree in Social Work from Marycrest College and a Masters of Social Work degree from the University of Iowa.

On July 20, 1963, she was united in marriage to her high school sweetheart, Robert Dean De Meyer, at St. Bridget Catholic Church in Victor, and they would have celebrated their 55th anniversary this July. Following their marriage the couple lived in Davenport where she raised her family and later furthered her education. From 1988 until her retirement in 2008, she was employed with the Rock Island Arsenal in Illinois. After 45 years of living in Davenport, the couple moved to their farmstead near Victor in 2008.

Tiny but mighty, Diana began a second fight with breast cancer a year and a half ago after being cancer free for nearly 30 years. On June 6th at 11pm, she took her last physical breath in the arms of her devoted family and left this world she loved so dearly. She had no fear of dying, but was sad to leave her family and friends, and this life she loved so deeply. The last six weeks, and many months prior, were exceptionally painful for her physically, although she never once complained or even mentioned it. If you are Catholic and believe in purgatory, there is no doubt she already experienced it on earth and went directly to heaven.

Many family and friends visited her within the last few days of her life. During one special visit, while simultaneously laughing and crying, a close and respected friend referred to her as the "Mother Theresa of the Rock Island Arsenal" when she was a social worker there for 20 years. She had an unlimited supply of compassion and humility, and there's probably not a better compliment a person can receive.

Just a few quick stories about Diana in case you didn't know her, which will give you a better sense of how truly remarkable she was…while in the hospital, she noticed a large family who never left their mother's side. They happened to be from another state and didn't financially have the resources for food and lodging. Diana opened her wallet and gave them all the money she had in it at the time. She had never had a conversation with them, yet she recognized their need and did what she could in her frail state to help them. Several months ago, the husband of one of her relatives had a lengthy and expensive stay at a hospital out of state. Diana anonymously sent a large check to cover their hotel accommodations. While on a trip to NYC this past November, she struck up conversation with a woman who had small children in hand on the plaza of the Today Show. Diana's usual open-hearted and unobtrusive way allowed this woman to feel comfortable sharing that her oldest son was at that moment in surgery for a brain tumor and she was taking the little ones out for a break. Diana opened her wallet and handed her $100 saying it was for an ice cream treat for the children. She did this on more than one occasion during this particular trip and all of her world travels. These types of gestures were commonplace for her, yet she did so quietly and anonymously, without need for acknowledgement.

Fearless is another word frequently used to describe Diana. Wanderlust could have been her middle name. She traveled through Northern Ireland during a time of serious conflict and recommended travel restrictions, drove through riots in Chicago during the Democratic National Convention in 1968, flew out of San Francisco half an hour prior to the largest earthquake ever to occur there, and happened to be at Haight Ashbury in its heyday. She cherished the time she lived and worked in Germany, immersing herself in its culture. She never turned down an opportunity to travel and touched the lives of strangers through her receptiveness and desire to learn about people and cultures outside of the places she resided.

Diana was a mentor to so many who have commented these past few weeks that if it wasn't for her supporting them throughout their lives, they wouldn't be the men and women they are today. Some recent comments from those she touched included: "She taught me how to look at both sides of the story, especially the side that was clearly at fault, but at the same time said not everything is as clear as you think you see it"; "She was my foreign mother and savior during my depression"; "You taught me what a strong woman looked like and that I could chase my dreams"; "My path in life could have been different if it wasn't for you and I hope to be that light you were to me for others". She was tolerant, non-judgmental, not only listened, but heard, and always expressed to her children the importance of never projecting personal values on others because we had not walked in their footsteps. She freely believed in serving others through her many volunteer commitments and involvement in numerous non-profit organizations and boards. Diana would not accept volunteer positions unless she could roll up her sleeves and make a difference.

Despite horrific experiences while hospitalized, Diana remained grateful, gracious, and respectful to everyone, even in one episode of medicine induced delirium. Numerous doctors and nurses commented on her amazing ability to touch their hearts and spoke frequently of her extraordinary goodness. Diana espoused the importance of loving every human brother and sister on this earth equally and without prejudice regardless of race, religion, color, sexual orientation, age or gender identity. She believed in not just being human, but being humane. It was her hope that upon her death, others would adopt this philosophy and spread love, not hate - and ideally all become Democrats!


Diana thrived spending time in nature, loved flowers (was a Master Gardener), Meet the Press, NPR, and PBS. She supported the indigent and marginalized in this world wherever she traveled as well as at home. Her travels were vast because she loved the experience of knowing - really knowing - people in other cultures and with different life experiences. Her son-in-law recently wrote, "Diana thinks people are like all the flowers she's planted in her life. Regardless of color, they are all beautiful and deserve to be cared for and tended to." A friend from Africa sent a touching and accurate Psalm 116:15 about Diana…"Precious in the sight of the Lord is the death of his saints." Her immense faith followed her to have no fear or worries in her life and she slept soundly ever night, handing everything over to God.

Diana had the faith of a mustard seed, lived fearlessly and passionately, opened her arms to friends and strangers alike, and lived and died following the Beatitudes. In addition to ending prejudice and serving others, the greatest gift you could give her would be to take them to heart and use them to guide your life:


"Blessed are the poor in spirit,
For theirs is the kingdom of heaven.

Blessed are they who mourn,
For they shall be comforted.

Blessed are the meek,
For they shall inherit the earth.

Blessed are they who hunger and thirst for righteousness,
For they shall be satisfied.

Blessed are the merciful,
For they shall obtain mercy.

Blessed are the pure of heart,
For they shall see God.

Blessed are the peacemakers,
Fore they shall be called children of God.

Blessed are they who are persecuted for the sake of righteousness,
For theirs is the kingdom of heaven."

Gospel of St. Matthew 5:3-10




She is survived by her husband, Bob of rural Victor; her children, Elizabeth "Beth" (Bryan) Carlson and their two children, Ava and Emery Carlson of Batavia, Illinois, Robert "Rob" De Meyer, Jr. and his two children, Anna and Lauren De Meyer of Lake St. Louis, Missouri, and Christopher "Chris" (Michelle) De Meyer and their four children, Jordan (wife Rachel), Olivia, Payton and Andrew "Drew" De Meyer of Hutchinson, Kansas; three brothers, David (Becky), Dan (Mary) and Doug (Susan) Michalek; and one sister, Susan (Mark Harrison) Michalek. She was preceded in death by her parents.

Memorial contributions may be designated to Humility of Mary Housing Program in Davenport, PBS, NPR, Discovery Shop in Bettendorf, or GoServ Global. In lieu of flowers, it was Diana's preference that you either plant a tree in her memory or donate to a charity.
To send flowers or a remembrance gift to the family of Diana Marie De Meyer, please visit our Tribute Store.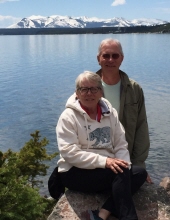 Thank you for sharing your
memory of Diana
Provide comfort by sending fresh
flowers from our local florist.
No thanks, please don't show me this again.